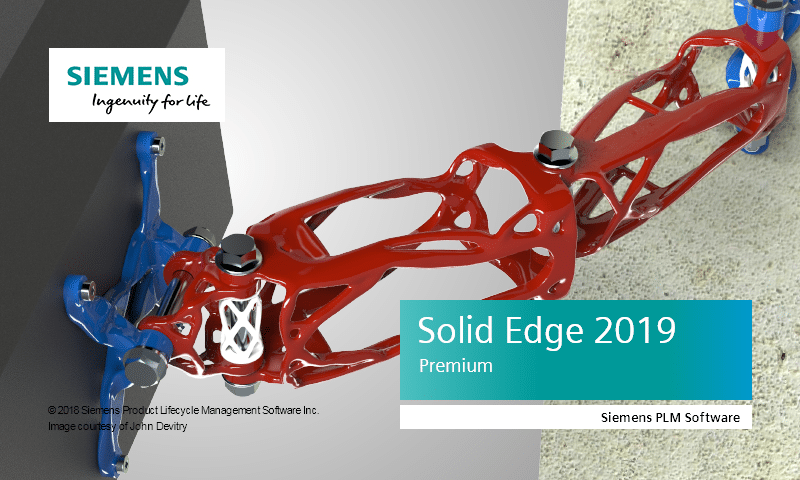 [members_not_logged_in] Vous devez être connecté pour voir la fin de l'article.… [/members_not_logged_in]


[members_logged_in] Ce nouveau Maintenance Pack 9 pour Solid Edge 2019 est disponible sur Dropbox. Le MP pour le composant Fast Search sur les serveurs de données est disponible ici.
L'ensemble des téléchargements du maintenance pack 9 pour Solid Edge 2019 est disponible sur cette page.
Nous vous conseillons fortement d'installer Solid Edge dans un dossier autre que « Program Files » ou « Programmes », accessible en écriture aux utilisateurs. Par exemple dans « C:\SolidEdge\ ». Nous vous conseillons également d'arrêter le temps de l'installation (et si possible de façon permanente) le contrôle des comptes utilisateurs de Windows (UAC).
Si vous changez de version, pensez avant tout à préparer votre nouvelle licence en suivant les guides des licences ou en nous appelant.
Ce maintenance pack inclut les corrections des précédents maintenance pack et corrige les éléments suivants (anglais) :
General
PR 9499888: Change SE status in Design Manager move files to the root folder in pre-release
PR 9511000: Wrong coordinate units with Probe command
PR 9503598: Update Status Info disabled with Solid Edge Foundation license
PR 9519306: A Total Bearing Load is being applied to each face with the total value.
PR 9542777: Common Views Window resizes when trying to move.
API
PR 9528866: Solid Edge aborts when trying to get a plane or PMI plane from annotation object
PR 9541960: Styles standard COM enumerator can crash solid edge
PR 9541992: Windows standard enumerator can crash Solid Edge
Assembly
PR 9324645: Unable to create chamfer assembly feature
PR 9362182: Unable to add Custom Occurrence Properties in some cases
PR 9426420: Assembly Move/Copy performance is slower compared to ST9
PR 9496664: Assembly that have features in them as being flagged as dirty on open
PR 9376294: Unable to run Piping Route utility (PreparePipingComponents.exe)
PR 9519529: Changing triad angle with Drag component command not working if angle typed in.
PR 9533162: Part geometry is wrong when zooming in and out
PR 9495996: Assembly: Editing sketch profile twice causes the document to go in error state
Draft
PR 9427462: Legacy parts list resets (turns on all) components in Options.
PR 9502972: Hidden callouts are not being located
PR 9498819: Changing « Terminator Type » will change at wrong end
PR 9524795: Crash placing view of AP asm after selecting FOA.
Part/Sheet Metal
PR 9520457: Potential fix for a crashlog abort in the Sync interpart copy command
PR 9529624: Smart dimension with dimension axis is not driving.
PR 9518257: Under 'round' the blend command does not work in Shining 3D
PR 9530464: contour flange built with ST10 (or prior) fails when recomputed with 2019
PR 9531196: Crash doing move to sync on this part file.
PR 9537499: Access violation (trapped) when closing the FOP preview window
Translators
PR 9487491: Crash while executing a 'Recompute' on a 'Part Copy' feature
PR 8732052: SW DATA MIGRATION wrong results
PR 9474274: SW2014 After the migration of the drawings are not the same
Teamcenter Integration for Solid Edge
PR 9437078: Line of the L-Panel is updated incorrectly by executing Set « Save As Selected »
PR 9468700: Property of a part can only be updated once within an assembly
PR 9511650: Check – In and Revise of any 3D is failed when unexpected lines exist in MyHistory
PR 9512949: SEEC: props and .xml files not copied to Cache, « Object » displayed in Pathfinder
PR 9521479: « Auto Fit » always on by default
PR 9521797: Query that takes a long time to execute is performed by SESE operation
PR 8422144: SEEC Occurrence properties will not sync with TC find no for all FOA member
PR 9504722: CAM Express (NX12) is unable to open Solid Edge ST9 parts in TC 11.4.
PR 9418335: Overwriting another users work
PR 9498295: Script error during Check-In from Hosted AW PR 9507704: User cannot change default UOM value on CPD.
Mold Tooling
PR 9288728: Crash while exiting SE after closing mold and electrode project with « Close All »
TechPub
PR 9344042: First time Save as of an assembly to QSM File cause components are incorrect
PR 9134662: Assembly display mode and zoom changes after export to QSM / Illustrations.
[/members_logged_in]