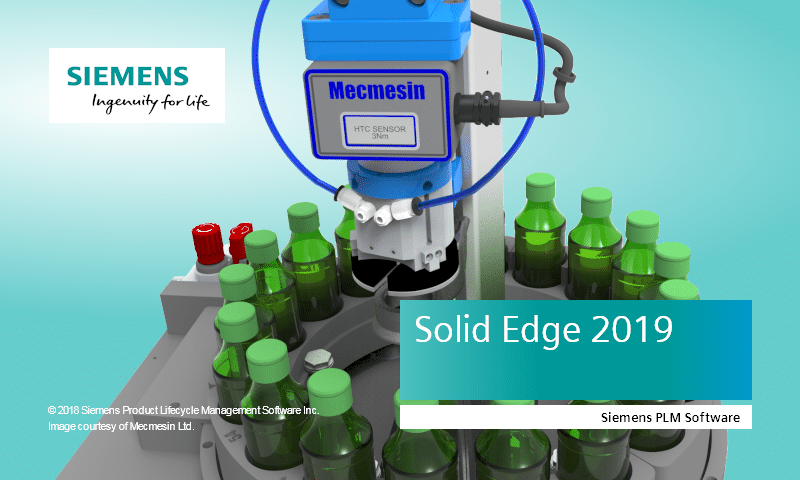 [members_not_logged_in] Vous devez être connecté pour voir la fin de l'article.… [/members_not_logged_in]
[members_logged_in] Ce nouveau Maintenance Pack 5 pour Solid Edge 2019 est disponible sur Dropbox. Le MP pour le composant Fast Search sur les serveurs de données est disponible ici.
L'ensemble des téléchargements des maintenance packs pour Solid Edge 2019 est disponible sur cette page.
Nous vous conseillons fortement d'installer Solid Edge dans un dossier autre que « Program Files » ou « Programmes », accessible en écriture aux utilisateurs. Par exemple dans « C:\SolidEdge\ ». Nous vous conseillons également d'arrêter le temps de l'installation (et si possible de façon permanente) le contrôle des comptes utilisateurs de Windows (UAC).
Si vous changez de version, pensez avant tout à préparer votre nouvelle licence en suivant les guides des licencesou en nous appelant.
Ce maintenance pack inclut les corrections des précédents maintenance pack et corrige les éléments suivants (anglais) :
General

PR 9325360: Solid Edge 2019 License Borrowing utility will not start Win 10 1803 and 1809
PR 9351038: SEHarnesspropseed.txt not found in non-English environment
API
PR 9134385: Add new part to assembly, save to QSM, part hidden, Undo, system error.
Assembly
PR 9119041: Engineering reference (Compensation gear design problem)
PR 9310980: Wrong size nuts and should screws are being generated in some cases
PR 9316364: Cannot change length and suppression variable together
PR 9195881: Unable to exclude parts in assembly copy
PR 9309628: Saving an assembly moves parts incorrectly
PR 9241501: Zero values and incorrect units for 'Moment of Inertia'
PR 8390233: Frame Recompute performance issues
PR 9337018: Solid Edge crashes while creating a splice on the bundle in below workflow
PR 9339646: several modeless dialogs not being destroyed correctly
PR 8555041: When I use « Project To Sketch », « highlight » is not working normally
PR 9329260: Crash when reordering multiple group items into another group
Draft
PR 9292023: Independent Detail Views go out of date by viewing a different sheet
PR 9332974: Mass property text now is blank in drafts
Part/Sheet Metal
PR 9075662: Unable to uncheck 'Use Excel File' from Gage Properties
PR 9308215: Solid Edge Standard parts Generating always hang up & Crashing
PR 9308280: empty pitch values in db for Hole command in SE 2019
PR 9320080: Mass of Generative Design part is 0 if saved before the generation
PR 9265929: Editing synchronous thread pitch value changes thread size
PR 9018880: Cannot make Sync edit on Sheet Metal if another part was edited and closed
PR 9323165: Pitch is grossly wrong when using Saved Settings
PR 9340182: Cannot use drag and drop to place block in sketch
PR 9310743: Non-stitched edges are not highlighted behind another face
PR 9352885: Sheet metal file aborts when flattened
Translators
PR 8329150: Dimension lines are not trimmed when importing this DXF file
PR 9253967: Solid Edge crashed while open JT data
PR 9290085: Multi body does not show up in Parasolid conversion
PR 9285318: Adding a cut into a mesh model prevents Local 3D printing from working
PR 9214451: Legacy JT translator takes significantly less time than current JT translator
Design Manager
PR 9295553: 'Expand All: Populate duplicates' does not persist if you check 'Don't show'
PR 9295035: Revise dataset creates incorrect revision history for some parts
Teamcenter Integration for Solid Edge
PR 9315592: Project assign is cleared when uploading without displaying the CPD
PR 9315778: Switching « Show View » to « Parts List » in SESE aborts
PR 9339186: SolidEdgeTranslationServices will not generate flat pattern DXF for .par file
PR 9241966: Problems installing Solid Edge Templates
PR 9323959: Preference SEEC_Enable_MultipleRevision=1 breaking Solid Edge links.
PR 9309476: Project update on other user data is displaying an error message in Solid Edge
[/members_logged_in]